Every year, I try to come up with Christmas gift ideas for hubby. I hope to suggest some less-obvious ideas, especially items that can be used to enhanced your sexual intimacy.
Here is this season's 10 Christmas Gifts for Your Marriage Bed. Maybe you can find something to wrap up for you and your hubby!
ADD AMBIANCE TO YOUR BEDROOM
1. Canopy. How about introducing a bed canopy? Those always look so romantic and sexy in historical bedrooms, like you two are hiding away in your own private retreat. Check out this classic canopy from Bed, Bath & Beyond: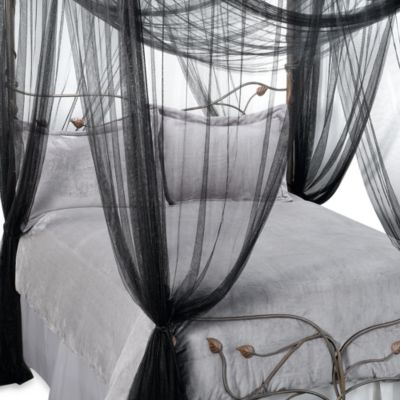 2. Light bulbs. Colored light bulbs are one of the best ways to add low lighting to your bedroom, the kind that gets you two in the mood. This is also a great way to lower the spotlight enough that you feel more comfortable baring it all for hubby. You can find them at your local hardware store or shop online. I think this one is particular pretty:
3. Wall art. I bought a wall decal for our bedroom that we plan to put up in our bedroom (after we repaint over the holidays). I love the idea of putting positive messages and scripture on our walls, and I found a wonderful Song of Song reference through Etsy. Wouldn't it be nice to have a message like this in your bedroom? From Sound Sayings.
4. Love Notes. How about trading love notes to spice up your romance? How about leaving one of those notes for your beloved in the shower? Yes, you can. Aqua Love Notes comes with waterproof pad and two colored pencils you can mount and use in your shower.
5. Signal. Looking for a unique way to give your lover the go-ahead for tonight? Why not use the bat signal? I suspect most hubbies would love to get this signal to step up their superhero power and rock their wife's world tonight. Cape optional.
6. Game. The Dating Divas specialize in activities and games for your marriage. For those Do It Yourself-ers, check out this fun Spin the Bottle game. This looks like something even I — craft-challenged person that I am — could make!
DRESS FOR INTIMACY
7. Socks. Did you know that people tend to climax more easily with their socks on? No, seriously. It was a surprise finding in sexual research. So help your man keep his feet warm and his marriage bed hot with some personalized socks. Etsy has about gazillion options for you to choose a great pair of socks he'd enjoy and add your own romantic or sexy message. Maybe something like Let's knock socks?
8. Fun undies. Given the upcoming release of the newest installment of Star Wars, I thought it would be super-easy to find boxer briefs that actually said "The Force Awakens." I mean, come on — that's kinda funny, right? But I had no luck.
You could opt for Star Wars undies or maybe something more direct, like these fun undies he can swagger into the bedroom wearing. From Webundies.com.
9. Lingerie. I have a friend who used to work at Frederick's of Hollywood. She explained that the same scenario was played out before and after holidays multiple times: Hubby comes in looking for lingerie for his wife, has no idea what size she is, selects something he thinks is sexy, and after the holiday wife shows up to return said lingerie with words like, "I don't know what he was thinking." I can shed light on that: Your husband was thinking he wanted see his wife looking sexually interested, and lingerie signals that.
So oddly enough, one of the best things many wives can get their husband is sexy lingerie for themselves. Find something that stretches your comfort zone a little, but not too much. Those of you who are worried, I promise you can find items that look suggestive without looking slutty. For example, here's a lovely nightgown from Macy's, in plus size. (I didn't want to post anything more suggestive here, but you can find plenty of options.)
GIVE THE BEST GIFT
10. You. Probably the best thing you could wrap up for your hubby is yourself. Make a big, beautiful bow and place it on your body. Wear it over lingerie or just by itself. And then let hubby unwrap his favorite present. Because, after all, he has been a good boy this year, hasn't he? Instructions can be found here.
Here are some of my previous posts with gift ideas for your spouse:
10 Sexy Stocking Stuffers for Your Husband
What Does Your Wife Want for Christmas?
10 Sexy, Manly Items for Your Hubby's Christmas Stocking
13 Sexy Valentine's Gifts from Your Grocery Store
8 Cool Valentine's Gifts for Your Hot Hubby
8 Sweet Valentine's Gifts for Your Spicy Wife
What's on your wish list this year? Any great holiday gift ideas for your hubby?